Digital Intelligence Courses
OSForensics has partnered with Digital Intelligence, a trusted leader in Digital Forensics hardware and training for over 20 years, who have developed and deliver a range of new OSForensics training and certification courses to meet the ever-growing demand of OSForensics users. These courses will be delivered across multiple platforms, with in-person training courses available at the Digital Intelligence US Training Facility, as well as online courses offered worldwide through a virtual classroom.
Three different OSForensics courses are offered to suit a diverse range of users and skill sets. These courses will navigate through a variety of training modules and practical exercises, exposing students to the numerous features and functions contained within the OSForensics toolkit. Students will also be able to confirm their knowledge and proficiency with the toolkit by passing a final exam and earning the OSForensics Certified Examiner (OSFCE) designation.
Courses run monthly, see the Digital Intelligence schedule for course dates.
OSForensic Boot Camp
Dates: Scheduled Monthly
Location: New Berlin, WI or via Virtual Classroom
Price: $2,495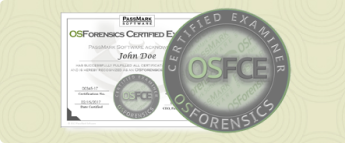 Certification Exam - Online
This test certifies that investigators are proficient at using OSForensics for forensic computer examination. It recognizes that they have an advanced understanding of computer examination methodologies, thus helping professionals to substantiate the validity of their case data.
We now offer a new triage certification specifically geared for first responders and other entry-level users of OSForensics who may not have traditional computer forensic training and experience. The OSFTC test can be taken completely online and is currently FREE of charge. (Please note this certification is not a substitute for the OSFCE certification for those using our software for traditional computer forensic examinations and analysis.)

The test consists of 30 questions, with a 45 minute time limit to complete. A score of 80% or higher is required to pass the test and receive the certification.