PassMark offer a self-directed online training course for digital forensics investigators and enthusiasts who wish to increase their proficiency in using OSForensics for computer examination. This web based, self-guided course is intended to provide new users of OSForensics with the skills and knowledge necessary to effectively utilize OSForensics as a complete digital forensics and live analysis (a.k.a. triage) solution. The course will prepare students who are looking to obtain certification to successfully pass the OSFCE (OSForensics Certified Examiner) test.
The course contains over 8 hours of PowerPoint Slides, Videos, and Lab Exercises for students to work through at their own pace.

For teachers and trainers interested in purchasing the online course material for use in their own classrooms, please contact us for more information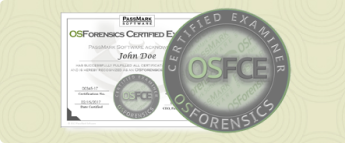 Certification Exam - Online
This test certifies that investigators are proficient at using OSForensics for forensic computer examination. It recognizes that they have an advanced understanding of computer examination methodologies, thus helping professionals to substantiate the validity of their case data.
We now offer a new triage certification specifically geared for first responders and other entry-level users of OSForensics who may not have traditional computer forensic training and experience. The OSFTC test can be taken completely online and is currently FREE of charge. (Please note this certification is not a substitute for the OSFCE certification for those using our software for traditional computer forensic examinations and analysis.)

The test consists of 30 questions, with a 45 minute time limit to complete. A score of 80% or higher is required to pass the test and receive the certification.
We also offer face-to-face classes for those wishing to learn in an interactive environment.

OSFTC Triage Class (1 Day)
OSFCE Forensics Class (2.5 Days)
Location: On-site
Buy now